Saturday the 3rd September saw Riley take part in Round 10 of the Club 2000 championship held at Red Lodge Karting in East Anglia. This was a track that had been recommended to us a couple of times so we thought we would give it a try.
Before the event, we set our expectations:
Have fun
Learn
Be safe!
Anything better than last is a bonus.
Short and sweet version, we expected nothing but to enjoy our day out and be safe. I say 'day out', we actually did something slightly different and camped at the track on the Friday night meaning we didn't have quite such an early start on the Saturday. The track venue itself was a lovely place to be, and very peaceful when we were sat relaxing before bed.
As part of the preparation research which included the comprehensive guide on the Red Lodge Karting website, we looked at the previous lap times and set ourselves a goal of under 50 second lap times which puts us within 110% of the front runners.
Practice
Although I wouldn't usually include the practice sessions, I want to point out that the practice session is just 3 laps. Before the event, I did a track walk with dad on Friday night, and a couple of walks with friends discussing their lines but I was straight in to it. At the end of my 3 laps, I had set a time of 51.133 which was good enough for 12th fastest in the session. Not a bad start to the day at all.
Qualifying
After practice there was a short break before we were back out for the qualifying session. A small adjustment to the tyre pressures was needed after practice but soon we were back out for another relatively quick session. Through the session my times kept coming down setting my best time of 48.936 on my last lap. This would be good enough for 12th on the grid.
Heat 1
Heat 1 started well, avoiding any carnage on the first lap/corner. I spent the first 4 laps having a really good, close and clean battle with kart 10 in 11th. Lap 5 and I made a lovely run out of the 180 corner down in to the Warren to take 11th. Coming in to Paddock Bend I was slightly overcommitted and ended up on the wrong side of the kerb and not facing forwards, I had to let a couple of karts through before rejoining the track. All was not lost, I tried hunting down those in front and despite being quicker than them there just weren't enough laps and I came home 14th with a best time of 47.994, just over a second off the front runners.
Heat 2
Once again, the heat started well with not losing any positions, but also keeping out of any first lap/corner trouble. On lap 2 the two people I had to wait for in heat 1 had a coming together, resulting in one of them not finishing. This gifted me a place, and 2 laps later, I had worked my way past the other kart bringing me back up to 12th. I began the hunt of kart 10 but being too closely matched couldn't close the gap. A fastest time of 48.252 and finishing 12th again was a good effort.
Heat 3
The third heat was a fun heat. Throughout the heat I was having a good battle with kart 10 again with us trading places back and forth on laps 5 & 6. A small mistake on lap 7 saw me drop off the rear bumper but I set back on the hunt but would finish 12th again behind kart 10. With several laps in the 47 second mark, my personal best would come on lap 3 with a time of 47.889. A good result at least with no places dropoed.
Finals
Before the grids were published for the finals, we were thinking we would line up 13th, despite finishing 12th several times we thought the 14th place would cause a drop of one position. We were pleasantly surprised when the grids were published that we were to start 12th. We were tied on points with 13th and it came down to fastest times which allowed me to start 12th.
The two karts behind me were able to get a really good start and by the first corner had passed me. I worked hard and managed to pick the first of them off on lap 2 before picking the second off on lap 4. I couldn't close the gap further and came across the line 12th and a fastest time of 48.067 set on the last lap.
Results
There were 3 results available at the Red Lodge Karting event. Up for grabs were the final race results, top novice and a clubman cup.
Race – 12th Overall
Novices – 4th
Clubman Cup – 5th
The Clubman Cup applies to competitors who have not finished in the top 5 previously at Red Lodge Karting, the 5th place has managed to earn my second karting trophy!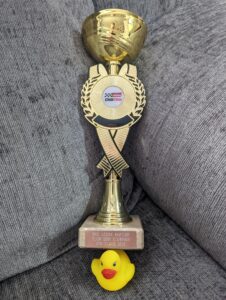 Thank you to everyone at Red Lodge Karting for putting on a fantastic event, I am sure we will be back!
Full results, lap charts, times and stats are available at https://results.alphatiming.co.uk/rlc2k/2022/10/
Last of all, a big shout out to GX Tuning Store for the awesome engine, it really worked well this weekend, and it was nice to see so many of your engines out there.
Media
Unfortunately, due to being behind a fence in the dummy grid/paddock area photo's by dad were not really possible without a metal grid in front of them. We did get a couple though.
The following media is provided care of Sprocket Photography. Thank you very much for some lovely photos.