Unlike at 2022 – Red Lodge Karting Club 2000 Round 10, for this one, we wouldn't be camping over. This meant a very early start in order to get to the venue on time. During the morning, before the first practice we had the great debate … wets or drys? It had been raining on the Friday and hadn't really dried by the Saturday. Riley took a walk and declared slicks. During the drivers briefing it was declared as a dry day. I was still a little unsure and one or two people went out for practice on used wets with the majority of the grid, including us on slicks. Practice went OK and Riley was once again mid pack.
Qualifying
Qualifying was a little non eventful for Riley, running as part of a pack, he managed to set his best time on lap 4 of 6. His time of 48.785 was good enough to line up 11th on the grid. This was good enough to be first novice on the grid.
Heat 1
Heat 1 wasn't a bad heat. A fast starter behind managed to get the better of Riley and the person in 10th. This meant I didn't pick up the place from a non starter in front. All was not lost and he had some good battles through the heat. A black flag for a failed bumper meant Riley picked up a place but couldn't quite do enough to pick up another place. Final finishing position was 10th, 2nd novice with a fastest lap time of 47.905.
Heat 2
Heat 2 would be an interesting heat to say the least! A fairly big first corner incident at the front would see our (and many of the grids) first experience of the Battenburg flag. This flag indicates that the lead kart essentially becomes a safety car, slowing the field down substantially allowing the incident to be cleared. After a very frantic start & first lap, Riley found himself in 9th. Once the Battenburg was cleared and it was back to racing for the rest of the heat he was having a good battle with the kart in front. With 2 recovery drives passing him he came home in 11th, 3rd novice with a best time of 48.612. A drop down penalty in front of him managed to bump him up one position to 10th overall.
Heat 3
Heat 3 would see him line up 10th on the grid again. A couple of very fast starts behind him saw him drop down to 12th. On lap 2 he managed to re-take one of the positions, before a retirement on lap 4 saw him bumped back up to 10th. He dropped a position on lap 6 to someone on a recovery drive from the previous heat, however he did manage to keep pace with them. He crossed the line 11th overall with a best time of 48.303, and after a drop down penalty he was 10th.
Final
On to the final and for this one he would find himself lining up 9th on the inside line for the first time. Not a bad start but did get pinched in to the second corner where it tightens. Surviving a small contact he carried on and on the next lap managed to gain a position before being overtaken himself. Riley got his head down and kept working to close the gap that had formed between him and those in front. Towards the end, a back marker re-joined the track after an off and took out the person who was running in 4th. This promoted Riley up to 7th where he would cross the line. A drop down penalty for the only person to overtake him promoted him to 6th in the final standings with a best time of 47.642.
Results
There were 3 results available at the Red Lodge Karting event. Up for grabs were the final race results, top novice and a clubman cup.
Race – 6th Overall
Novices – 2nd
Clubman Cup – 2nd
So, with 2nd in the Clubman Cup, it's another trophy to add to the collection! Thank you to everyone at Red Lodge Karting for putting on another great event.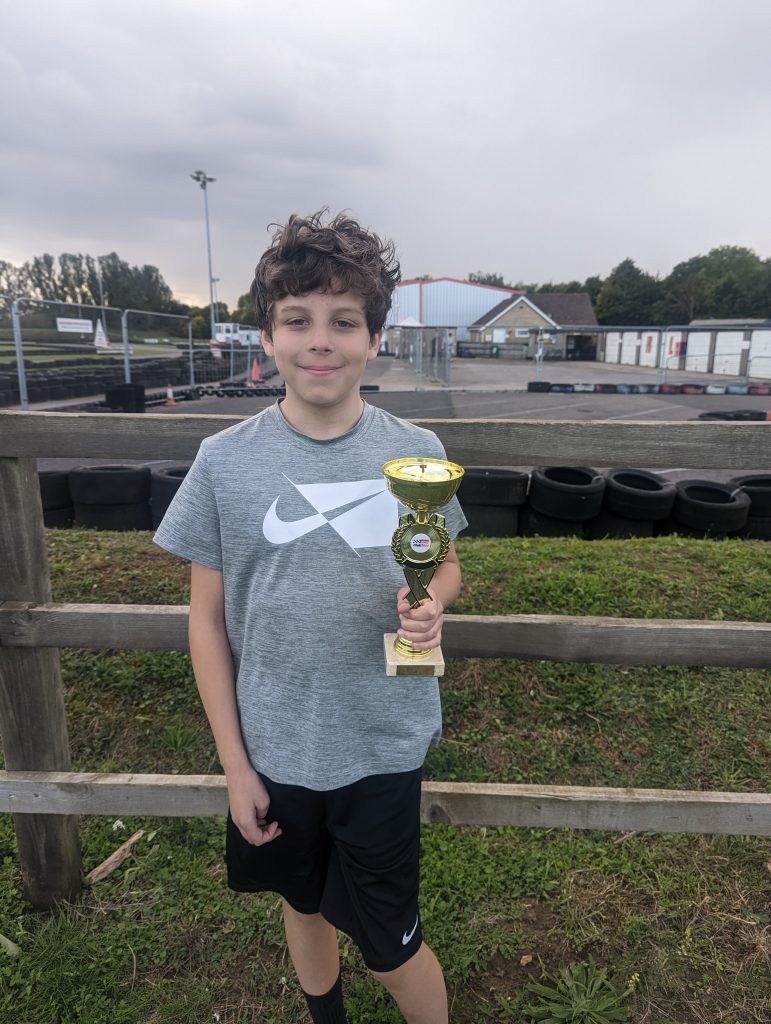 Photo's are to be added to this post once I purchase them from the photographer.