We thought Round 5 was hot, Round 6 of the 2022 Rye House IKR championship improved on this, with Alpha Timing reporting a high of 30°C, with other sources reporting 33°C. Once again, we had a strong focus on keeping cool and keeping hydrated. One difference for today was we had an extra family member with us cheering us on.
For this round, we had a few more changes. Firstly due to a growth spurt, I had new Sparco gloves and boots. These were delivered really quickly by Demon Tweeks. Secondly, as mentioned in the article Demon Tweeks Sponsorship Scheme we received our sponsorship stickers in time to get them fitted for this round.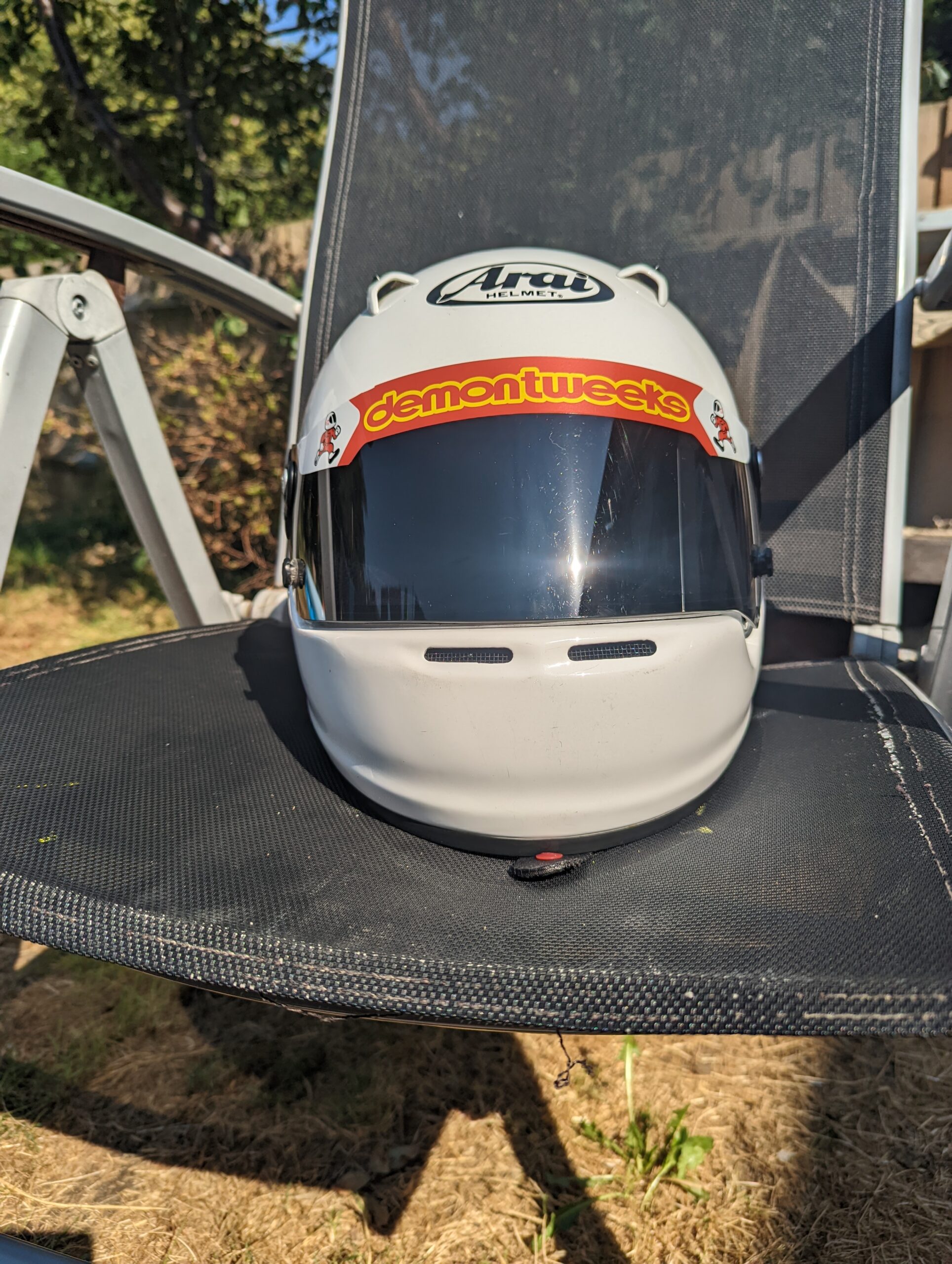 Qualifying
We went in to qualifying feeling quite good about things. Unlike last time with the heat, we had managed to get the tyre pressures right and from the first warm up session setting a decent pace in the low 41s. During qualifying I missed setting my PB by 0.02s and set a qualifying time of 41.086. This was good enough for 10th until I was pipped by 0.027s on the very last lap. Not a bad start to the day in 11th.
Heat 1
A decent start saw me in 9th after the first lap. I lost a position after out-braking myself a little at the hairpin allowing the kart behind through. I spent the rest of the race in a very equal 3-way battle. It was great fun and after being overtaken on lap 8 we crossed the line in 11th place. Less than half a second separated the three of us at the end. In this heat I managed to set my first new PB with a time of 41.035.
Heat 2
Heat 2 saw me line up 11th again. I managed to get a decent start and overtook one of the people I was battling with in Heat 1. With someone further up the grid not starting the heat, this saw me in 9th. Again we had a good battle with someone from the first heat and despite being overtaken on lap 6, I crossed the line in 10th. This heat also saw me hitting a 40s lap time, not once but 3 times with a best of 40.828s that was my PB well and truly smashed.
Finals
The finals saw me line up in 10th place. A very fast starter from behind saw me lose a place off the grid. I spent the next 5 laps trying to get past before managing to make a move stick. Unfortunately it was a little too much to catch up to the next person who I'd been battling all day on track and came home 10th. No PB in this session but plenty of consistency with my lap times.
Full results, lap times, lap charts and stats are available at https://results.alphatiming.co.uk/rye/2022/6/
Media
Not much in the way of media from today. Unfortunately dad was too busy keeping an eye on timings, checking over things and heat management to take photo's as well.