2022 has been our first year competing in our own kart. It's been a year of ups and downs with plenty of learning. We accomplished more than we were planning to and like the race reports are a debrief from the races, this is a debrief of the year as a whole.
As dad, I am proud of what Riley has achieved and how he has gone about achieving it. Coming in to the year, we knew that the Honda Cadet grids would be extremely competitive. We watched the cadets in 2021, saw how big the grids were and how close they were. The 2021 goal was to be within 110% of the front runners times before I, as dad, allowed him to compete so that he wasn't a hazard out on track and so he didn't get demoralised from being lapped early on.
Rye House IKR Championship
For 2022, we decided that this would be our main championship. Rye House is our closest track and we both knew it quite well so it made a lot of sense. The 8 round championship started in March and as you can see from the Results page, throughout the year he was in the mid pack. This was a great achievement, given that we weren't on the latest chassis with the biggest engines.
We started the year with a 2012 Project One chassis, before managing to pick up a 2016 chassis ready for round 2. We had new tyres for the start of the year, and with the shortage in supply of Dunlop tyres, only got another new set for round 3. As a result, our little Dunlops managed to do 5 rounds at Rye House and 3 rounds at Red Lodge!
We had our engine rebuilt in July just before round 5. It turned out that our old engine was in a very bad way. This was a bit of an unexpected cost but it made a big difference to Rileys confidence and we started to see some overtakes rather than being overtaken.
Throughout the year plenty of close battles were had with karts 88, 62 and 22 in particular, and great friendships formed throughout the paddock. Finishing 8th overall in the championship was a very good result for our first competitive season. Overall we had some good performances, including in the wet for round 3 gaining a 5th place finish in the final. We learned a lot about the Rye House track and driving through the year, it was nice to see working together with #22 at the end of the season rather than slowing each other down.
With a best finish of 5th in a very wet 2022 Rye House IKR Round 3, which also saw Riley pick up driver of the day, and 8th overall in the championship, it's safe to say that our first year competing as privateers was a good year.
Red Lodge Club 2000 Championship
We were introduced to this championship by some friends who were competing at the Rye House Championship. We only did the last 3 rounds of this one making it a very short one for us. This doesn't detract from what a great championship it is, particularly for novices such as ourselves. The championship caters for novices by including an award for Top Novice, and the Clubman Cup for anyone who hasn't finished in the top 5. All in the aim of encouraging these young karters.
With good sized grids, like most Honda Cadet classes, it was all very competitive. Despite never driving the track before, not even for testing, he was thrown in at the deep end on the first race day. This didn't deter us, and with no pressure due to not being in the championship, Riley found decent pace from the off.
For the three rounds we did take part in, it was very enjoyable. And the added incentives for novices such as ourselves helped give something to work towards. With a best finish of 6th overall, and a Clubman trophy at each round it is definitely a great championship for beginners.
2023 Plans
Looking forward to 2023 and we have already secured the new kart, a 2022 LN Four Mini Max. Despite the changes to the MSUK regulations making this class redundant, many people are still in the crossover. This means some tracks are putting on a 2022 spec Mini Max Championship.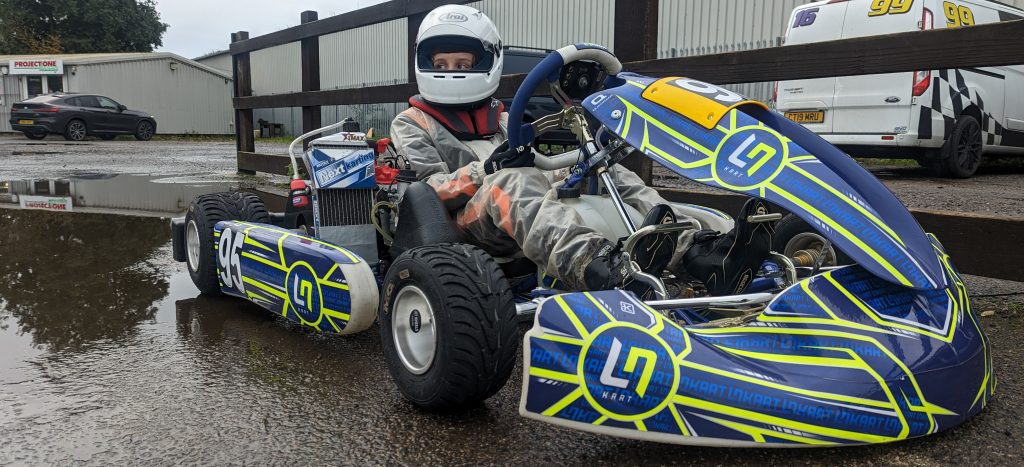 We are going to focus on the Bayford Meadows Kart Racing championship as our main championship for 2023. We would also like to compete in the Red Lodge Championship. Dates for these championships don't clash so with a bit of luck we should manage both.
We have applied to renew and continue our partnership with Demon Tweeks and we have also been accepted on to the Opie Oils sponsorship scheme.
Media
Below is some media taken from testing the new kart in preparation for the 2023 season
YouTube Video
Below is clips dad has taken during the testing we've done at the end of the year. There has been a fair amount of wet testing to say the least. Bayford test was done with help from Ambition Motorsport.
Bayford Meadows Test
Red Lodge – Sprocket Photography